Phuket, Thailand
Location
Phuket Raya Day Tour with Snorkeling OR
Scuba Diving
Treat yourself with amazing views under water in Phuket! Soak in the beautiful views of coral reefs and fishes while you are snorkeling or scuba diving in clear blue water. You will not need any license for the diving since it's on only 7-10 meters deep. Sounds good? Then you should go ahead and book out Phuket Raya Day Tour with Snorkeling & optional scuba diving!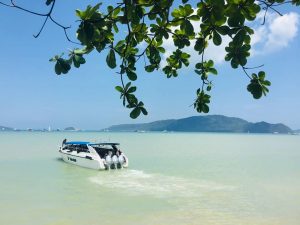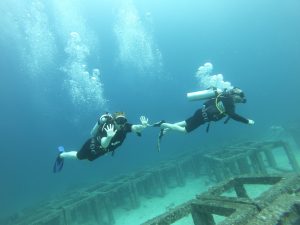 DEPARTURE/RETURN LOCATION

Phuket, Thailand

DEPARTURE TIME

Pick up between 07.30-08.45 depending where your hotel is located, we will inform you when the booking is made.

RETURN TIME

16.15 arrive at the mainland pier and you will be transferred back to your hotel

WEAR

Comfortable clothes (t-shirt, shorts etc.), swimwear, towel

INCLUDED

Guide
Transportation during the tour – speedboat
Pick up and Drop of (Phuket only)
All needed equipment for Scuba Diving (if diving option is booked)
Snorkel mask & Life jacket (if snorkeling option is booked)
Morning coffee & Tea
Buffet Lunch
Insurance

NOT INCLUDED

ADDITIONAL INFO

-Wish for a private tour, please contact us for more information.

-This is a join tour.

TO KNOW BEFORE YOU BOOK – Pick Up

 
To be able to proceed Scuba Diving option you must be 10 years or older.

Child & adult pay the same price for scuba diving option.

Pick up information:

For other areas please contact us regarding to the extra charge. 

Infant: 0-3 yrs (FREE)

Child: 4-11 yrs

Adult: +12 yrs
After pick up at your hotel we'll take you to Chalong Pier where the Speedboat is waiting.
Once you arrive to the camp we will jump on the boat and head to Racha Yai Island, around 30-45 minutes away from the mainland. Here you will also be served morning coffee or tea to start the day with!
10.15: You will arrive at Ter Bay and we will separate the group into Diving group and Snorkeling only group.
Diving:
If you choose the package that includes diving it's now time to start your diving journey in Ter Bay (or Patok Bay, this depends on the weather conditions). Get around 15 minutes instructions about safety and "how to"-tricks before jumping into the water, we will make sure you will feel safe and ok while you're under water. . You'll dive on a 10 meter deep (no license needed) and you will enjoy around 30 minutes under the water. Soak in the beautiful views of coral reefs and fishes while diving in the beautiful blue sea. After finishing your diving journey and once all your fellow diving friends also are done its time for lunch at a restaurant located on land.
Snorkeling:
If you choose the snorkeling only package it's now time for some snorkeling! You will get all needed snorkeling gear from our guide and you will enjoy some snorkeling around Ter Bay (or Patok Bay, this depends on the weather conditions) for around 45-60 minutes. Once you're done with the snorkeling experience we will bring you to the land of Racha Yai and bring you to a beautiful beach at Patok Bay, located around 15 minutes car ride. (During rain season we take the car to Patok Bay, other seasons we will take the boat to Patok Bay). Relax and enjoy some beach time for around 30 minutes before we will take you to the restaurant located around 20 minutes from here.
12.30-14.00: You will be served a nice and tasty buffet lunch at a restaurant and after this you will get the chance to take a swim in the swimming pool next to the restaurant.
14.30-15.30: After some lunch and relaxing it's time to head to another beach at Coral Island! Here you can relax, swim and sun bath! Here you can also rent a beach chair for 100 THB. If you wish, you can also choose to book an additional activity provided on the beach (other company, book on spot) such as Banana boat, parasailing etc. Around 15.30 it's time to say good bye to Coral Island and head back to the mainland!
16.15: Around this time you will arrive at the mainland pier and our driver will take you back to your hotel.
Thank you for joining the tour with us and we hope you enjoyed it!
To be able to proceed this tour you must be 10 years or older.