Krabi Kayaking Tour at Ban Bar Thor Ancient Cave & Mangroves & Swimming
Enjoy a day kayaking in Krabi's beautiful nature, while exploring ancient cave paintings and mangrove forests. End the day with some swimming in fresh crystal cool water! Check the information below for more information about out Krabi Kayaking Tour At Ban Bar Thor!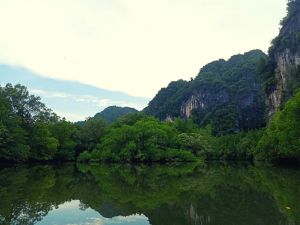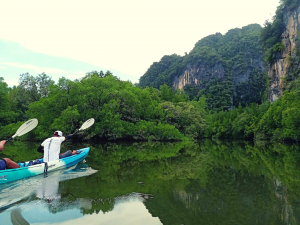 DEPARTURE/RETURN LOCATION

Krabi, Thailand

DEPARTURE TIME

Pick up is between 08:00-9:00 depending on your hotel area. You will get the exact pick up time after you're booked, via email.

WEAR/WHAT TO BRING

Comfortable clothes, swimming clothes, mosquito repellent

INCLUDED

Pick up and drop off (Krabi mainland only)
Lunch & Drinking water
Insurance
Guide
Kayaking at Ban Bor Thor and explore caves & mangroves
National park fee
Swimming at Klong Sa Keaw

ADDITIONAL INFO

Wish for a private tour, please contact us for more information.

Pick up and drop of is provided for Krabi mainland only.

Get the exact pick up time for your hotel after booking.
For more information about this tour, please check out the detailed itinerary above!
For any questions regarding our Tours, please send us an email, call us or message us on Facebook!
Get picked up from your hotel in Krabi and our driver will take you to our camp. Here our guide will introduce you to today's activity and give you a brief lesson about the main knowledge in kayaking. After this, we'll jump on the kayak and start the journey! This area is a national park with a complex system of rivers, inlets and limestone caves. It's one of the earliest sites of human occupation in Thailand and is rich in archeological treasures, artifacts and cave drawings.
Kayak through the beautiful nature of Ban Bor Thor with mangroves, passing local fishermen and listen to our guide explaining the different places you are seeing. First stop will be a cave which we will kayak through. Explore the limestones formations in the cave and take some photos if wished. The water is very calm and makes for easy paddling. The cave is decorated richly with stalactites and stalagmites, which our guide will tell you more about!
Second stop is the ancient cave named Tham Pee Hua Toh. Get our from your kayak and jump on land, into the cave. Walk inside the cave and spot ancient paintings made over 3000 years ago. This cave is one of Krabi's most famous caves and a true must visit and it has provided shelter to humans for thousands of years. This place is also thought to have been a burial site of over 3,000 years ago, because they found a number of large skulls in the cave. Take photos and learn about the cave.
After this, jump back on the kayak and our guide will take you through beautiful nature while kayaking in the calm water. Explore magical mangroves and green nature, this day is a perfect relaxing trip, with kayaking and historical spots. After some more kayaking we will reach one more cave where you can see even more limestones formations!
When it's time for lunch around 13.00, we will serve you a nice and tasty Thai lunch at our camp!
After lunch we'll drive you to Klong Sa Keaw river, an approximate 40 minutes long car ride. End the active day with some swimming in the beautiful Klong Sa Kaew river! Klong Sa Keaw is a crystal river in the middle of the tropical jungle! Take a refreshing swim in the cool water for around 45 minutes before we drop you off at your hotel!
We hope you have had a great day with us on this day trip!
Depending on the water tide (moon) the schedule may vary on what spot we visit first etc.